Limited-time menu offerings celebrate the seasons and show off Houlihan's epicurean side.

By Monica Rogers, Contributing Editor -- Chain Leader, 5/1/2008
Seasons come and seasons go. And with them, a fresh slate of Chef's Specials appetizers, entrees, desserts and wines are featured at
Houlihan's
30 company-owned stores. The seasonal limited-time offers take an upscale approach that has boosted the casual-dining chain's food and wine sales and check averages.
This month Leawood, Kan.-based Houlihan's launches its fourth seasonal-specific LTO, completing its first full-year, seasonal menu cycle. Shaped for spring, the fresh and lively lineup includes an appetizer of Warm Almond-Crusted Brie, $9.95, with fruit,
fig-balsamic glaze, walnut-raisin crisps and fresh baby greens spritzed with fresh lemon juice. There's an entree of Seared Halibut Niçoise, $15.95, with red potato salad, haricot verts, tomatoes, Mediterranean olives, toasted mustard-seed vinaigrette and baby arugula with lemon. And Lemon Meringue Pie, $2.49, in a butter crust, rounds out the menu.

Since last summer, LTOs have included dishes Vice President of Culinary Dan Admire shaped to fit the seasons. Summer 2007 brought French Fried Asparagus, $7.95, coated with Provencal bread crumbs and served with lemon-horseradish crème. Fall meant Prime Top Sirloin, $18.50, with lobster macaroni and cheese, sage demi-glace and roasted vegetables, and a suggested wine pairing of an $8.99 Chilean merlot. Winter warmed with Hot Chocolate Cake, $2.49, oozing a truffle center and frothed with orange-flavored-liqueur cream.
Host of Benefits
Besides offering guests new tastes, the seasonal menus have produced numerous measurable benefits. 2007 specials nudged guest check averages up an average of 37 cents. During each three-month run, seasonal entrees accounted for 6.5 percent of sales with the summer menu, 9 percent with the menu in the fall, and 18 percent in the winter. Dessert sales have increased 10 percent to 15 percent overall since the switch to a seasonal-menu approach. And average wine sales per check increased 14 percent, thanks to printing a suggested wine pairing with each entree.

Guest perceptions have improved as well, according to Vice President of Marketing Jenifer Gulvik. "There's more understanding among guests that Houlihan's is serious about food," she says. "The menus have caused guests to view us as more innovative and fresh. And research shows that if the perception of freshness is there, customers think the quality of the restaurant is higher."

Despite the epicurean feel of the specials, the price points are in line with core menu items. The LTOs range in price from $7.95 to $9.95 for appetizers to between $13.50 and $23.50 for entrees.
Seasonal Savvy
Houlihan's took the seasonal-specials approach to its menu to offer fresh, interesting flavors in the simplest possible format. "You can't add seven new items to your core menu—there's just not enough space on the menu or on the cooking line to handle that," says Gulvik. As well,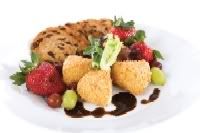 frequent additions to the core means deletions would have to happen just as frequently. "And deletions are very difficult for guests to handle," she says.

With a seasonal limited-time offer on the other hand, "guests get that this is not a permanent thing, so you have the fresh new-news benefits without the painful deletion piece," Gulvik says.

Still, introducing a new LTO menu every three months has necessitated some operational changes. Houlihan's deleted several items from its core menu such as Mandarin chicken salad, Thai barbecue shrimp and potato skins appetizers, berry cobbler and cheesecake. Guests haven't missed the items, Gulvik says.

For the first time, Houlihan's also went to separate lunch and dinner menus. While all of the menu items offered at lunch are also available at dinner, the lunch menu has half the total menu items. Admire explains that abbreviating the offerings makes setup for lunch easier, freeing up time to prep seasonal menu items prior to dinner.

To help train restaurant chefs, Houlihan's shoots detailed videos on each recipe method in the test kitchen. "This has worked really well for us because every regional director, chef and cook in the company has an opportunity to view the preparations," Admire says. Of all the seasonal dishes, he says desserts present the biggest training challenge, "because baking's an art as well as a science."
Shaping the program, Houlihan's took its cue from upscale independent restaurants. "We're constantly talking about where America's palate is going," says Gulvik. Admire develops about 20 trial dishes for every item that makes the specials menu.

As indicated by entree sales, Houlihan's menu team has "gotten savvier with each subsequent menu, delivering fare that's interesting and epicurean, but not to the point of scaring people off," says Gulvik, explaining that some of the dishes from the first menu like cold soba noodles and whole bone-in catfish were just a little bit too "out there." The company has had better success with filleted fish dishes such as last summer's Almond-Crusted Tilapia, $17.95, with amaretto beurre blanc, fresh seasonal berries and grilled asparagus. It is the top-selling seasonal entree to date.
Fueling the program's success, servers are trained to use the seasonal menus as a talking point to drive repeat visits, especially as each menu nears the end of its run. "A server might say, 'If you love that dessert, make sure you come back before April 23,'" Gulvik explains.

Also beneficial, each unit prints the name of the unit chef on the menu, just as a fine-dining establishment might do. "It really gives the chef pride of place and a sense of ownership in the execution of these dishes," says Gulvik.

Currently seasonal menus are only available at Houlihan's company stores and a half-dozen franchises. While feedback has been good, the company is not requiring franchisees to jump on board just yet. It wants to get a few more of the seasonal menus under its belt before re-evaluating its stance on franchise participation.

"Reducing the core menu, going to separate lunch and dinner menus, and committing to a new menu every three months is a pretty significant step," Gulvik says. "We're eager to see how the spring menu performs and are already shaping the summer menu to launch in July."