II recently saw an article on the front page of Yahoo for a two ingredient pizza dough. I was intrigued enough to click through to the article written by the
Yahoo Food Team
. The recipe is from
Elettra Wiedemann
of the
Impatient Foodie
blog. She first read about the method in The Slow-Roasted Italian.
Elettra states this for any naysayers about whether or not it works
," I SWEAR IT DOES. I am totally confounded by the chemistry of this, but it tastes amazing and the texture is perfect. I tested it in multiple kitchens with multiple people and everyone was like, "WHOA. Why didn't we know about this before?"
It simply uses self-rising flour and Greek yogurt with active cultures. The dough doesn't need to rise, it's ready to use as soon as it's formed. I let it sit for a couple hours just to give it time to develop.
The science behind it made sense to me because self-rising flour contains baking powder and salt. Baking powder also has an acidifying agent, cream of tartar, which is important because this combination is what reacts with the sodium bicarbonate when liquid is added. This is what causes carbon dioxide gas that provides leavening. Baking soda on the other hand is pure sodium bicarbonate and won't rise with liquid unless some sort of acid is add, that's the science behind buttermilk biscuits with the buttermilk providing the acid.
OK…..enough of the science already, I made the dough in a large batch and baked one piece off as a round and it had extraordinary rise. I cut the rest of the dough into smaller pieces and rolled it through a pasta machine to get nice long pieces so I could make crisp crust flatbreads. I par baked them with asiago cheese which actually allows you to freeze them for later use, which I did this and here are the results.
Left –
Gorgonzola & Pear Flatbread
, with fig jam, smoked bacon, scallions, and parmesan.
Right –
Smoked Salmon
, with roasted garlic white sauce, chives, and capers.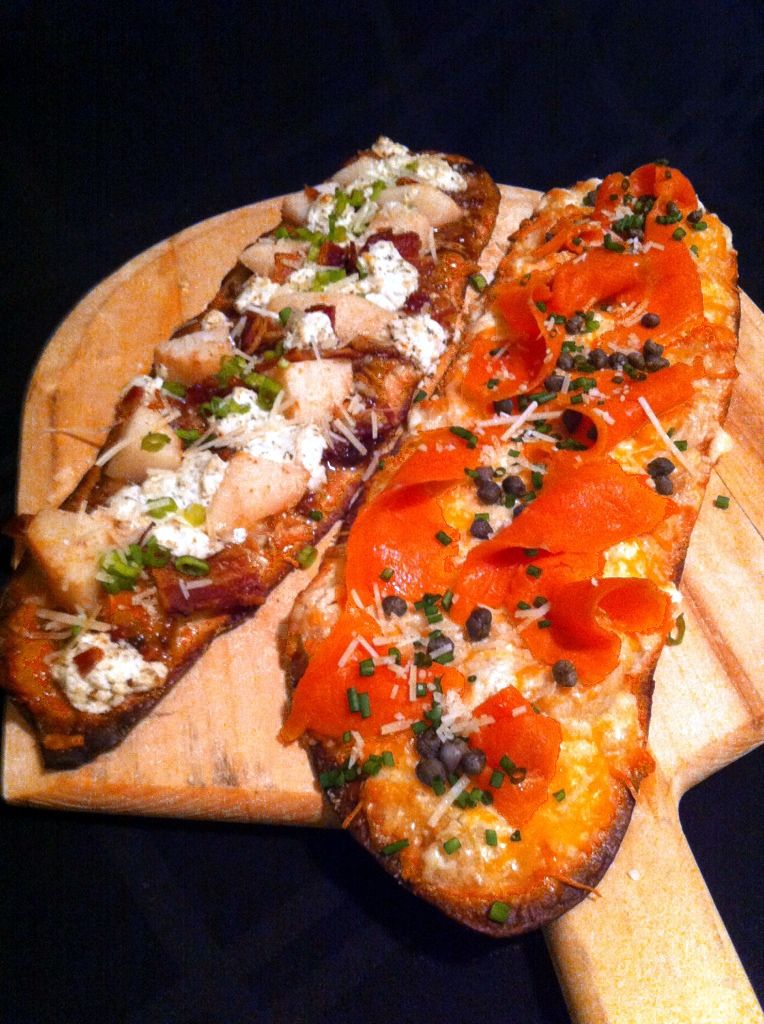 Left –
Grilled Chicken Flatbread
, with goat cheese, roasted garlic, and asiago.
Right –
Grilled Chicken
, with BBQ sauce, and cilantro.