As promised, my gourmand sister has graciously sent me the following pictures and comments from her trip to Spain.
Now on to Moo
Pronounced "mow" as in mow the lawn. This place is Michelin starred. The craziest food ever, and worth every penny. Sorry my pics are so blurry - many of my food pics did not turn out on this trip. But at least this one did. This is the golden egg I was telling you about. I think that gold was spun sugar. raw egg inside on the nest of among other things, corn nuts.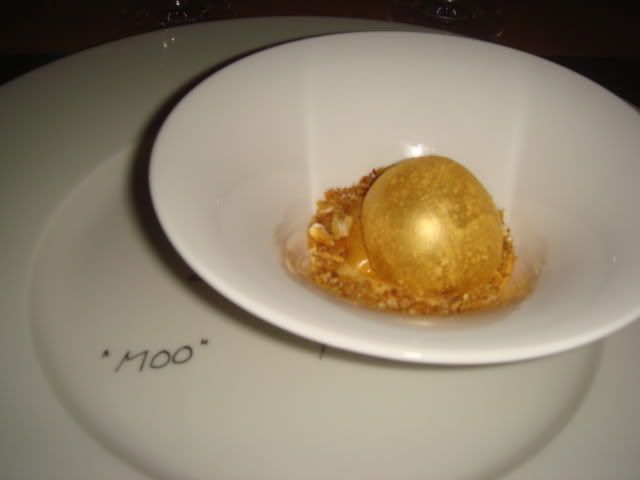 Here's the green apple sorbet surrounded by thin sheets of goat cheese at Moo
Blurry, but you get an idea of what the inside looks like
Also from Moo

Cherries stuffed with foie gras. and I have to tell you that I am not
a foie gras lover - I find it too rich, so much so that i think it
loses all flavor. But this was outstanding. It was a first course and
they served it with port!
This was the mother of all cheeseplates
It was served to us in Barcelona at a place called Vila Vinoteca. It is a food shop with the best charcuterie and cheese selection in the city. We went there twice and both times we put ourselves in their hands, which was a good idea cos look what they brought us on our second visit:
Tomato Bread
So this is a local speciality - it is ubiquitous. Bread rubbed with
raw tomato and drizzled with salt and olive oil. Plus they love their
cured meats.
More Yummy Tapas
From a place called Xampanyet in Barcelona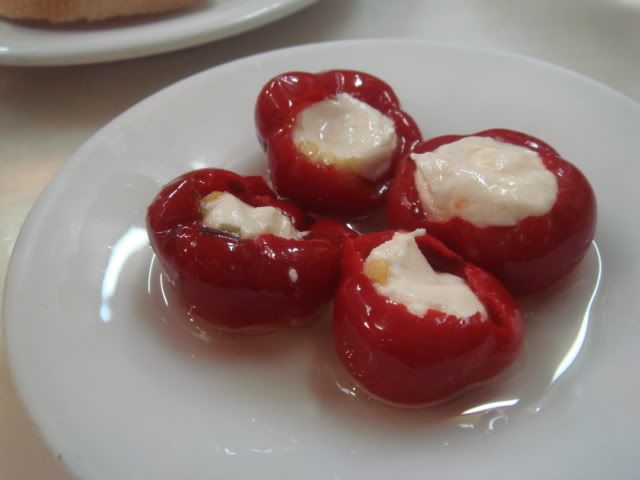 Typical tapas bar
Just point and eat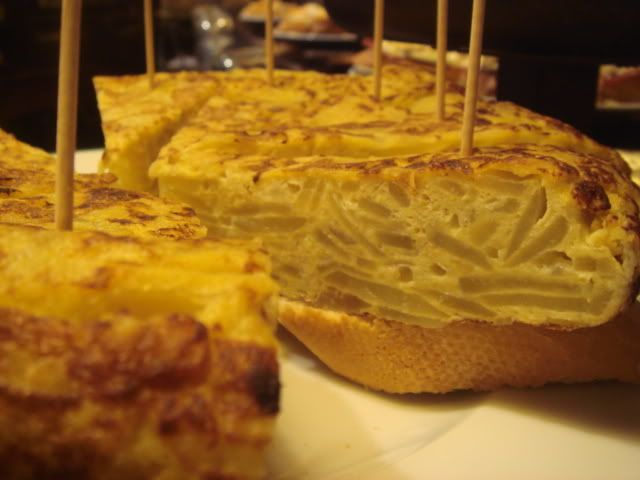 Fries with eyes
Could not get enough of these...one of the 11 courses at Passadis del Pep.
Now on to Barcelona

And their famed snails. Vikki is a mermaid, she couldn't get enough. We ate these at Passadis del Pep (the locals-only cousin of tapas bar cal de pep). You show up, they start pouring and bringing you seafood until you say stop. We ate probably 11 courses of mostly unrecognizable seafood.