Dan Admire revamps each of Houlihan's 65 menu items with a grown-up customer in mind.


By Lisa Bertagnoli, Contributing Editor -- Chain Leader, 7/1/2005
Over the past year, Houlihan's customers might have noticed something different about the fried calamari, one of the chain's signature appetizers.
Instead of presented as a pile of rings on a plain white plate, the calamari comes to the table in a Chinese takeout container placed on a small rectangular plate. Two sauces, a fiery Asian barbecue and gentler ginger concoction, accompany the appetizer. "It's a dish you see everywhere, but when you get this, it's a real surprise," says Dan Admire, vice president of culinary for Kansas City, Mo.-based Houlihan's, which has 26 corporate and 48 franchised restaurants in the United States.
If they look hard enough, customers will find something different about every one of the 65 items on the chain's new menu, rolled out last year. "Everything, in one way or another, got touched," Admire says.
"Touched" means a tweak as simple as a new plate or as complicated as an entirely new recipe. For instance, 'Shrooms, a $7.99 appetizer of stuffed jumbo mushroom caps coated with Japanese bread crumbs, is the same recipe, only presented on a 12-inch-by-4-inch white plate. Three new plates—a high-rimmed triangular plate, a small rectangular plate and a bigger rectangle—are key to the new menu's contemporary feel, Admire says.
Nineteen of the 65 items on the menu are brand new. Admire eliminated mainstays such as cheese fries and a Caribbean-flavored chicken entree in favor of Goat Cheese Bruschetta, $6.99;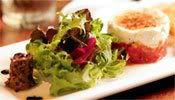 Chipotle-Smoked Chicken Enchiladas, $10.99, spiked with green chiles, tomatillos and smoked-chipotle cheese sauce instead of the classic red sauce; and Ahi Tuna Salad, $10.99, cilantro-spiked napa cabbage topped with cashews, fresh bananas, banana chips, seared rare tuna, sesame seeds and won-ton strips. The salad's ginger dressing is made from the juice extracted from ginger pureed in a bar blender.
"Our target was to make craveable food," Admire says of the unusual approaches to menu staples. "Craveable food creates dining decisions."
Adult Entertainment
Houlihan's launched its menu project three years ago as part of an entire process that Admire calls "a pretty serious brand evolution." "We needed an update," says Admire, a six-year
Houlihan's veteran who trained with Chef Larry Bowen of Gilbert-Robinson's Fedora concept and under Chef Robert Palmagrine, who brought the teachings of legendary chef Jean-Jacques Rachou of La Côte Basque to The Winds Restaurant in Kansas City.
The chain has a specific target in mind for this evolution: Gen Xers and baby boomers for whom Houlihan's isn't exactly top of mind, says Creative Director Jen Gulvik. "The company has been around for 30 years," she says. "A lot of people have used it in the past but are lapsed users."
Courting adults also offers Houlihan's a competitive angle: "It differentiates us from casual-dining restaurants, which are more family-focused," Gulvik says.
Overall, the new menu strives to provide contemporary foods with intense flavors, more ethnic offerings and with-a-twist versions of popular American foods, according to Admire. Within those parameters, several key elements address the adult market.
The drink-friendly appetizer menu was the subject of most menu tinkering. Houlihan's added six appetizers to the menu, bringing the total to 16. Appetizer flavors span the globe, from Italy to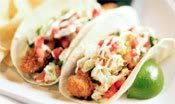 Thailand to Mexico, and include several lighter dishes such as Asian Lettuce Wraps, $7.29. Customers are responding well to the change: Appetizer sales increased 15 percent the first six weeks after the new menu rolled out.
Another adult-oriented element is the bar menu, formerly separated from but now part of the main menu. Adding four pages of beer, wine and specialty drinks, among them mini-martinis, mojitos and top-shelf margaritas, to the main menu has resulted in a 1.23 percent jump in alcohol sales.
Houlihan's new menu of small-portion desserts, each priced at $1.99, attract an increasingly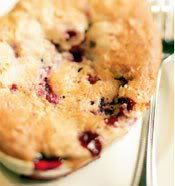 waist-conscious adult audience as well. "When we had big desserts, they were a tough sell," says Gulvik, noting that three adults would usually share a $4.95 dessert.
The smaller portions, she says, "are a great way to give people dessert without the baggage." Again, customers seem to agree. Even though the company slashed dessert prices and portions by 40 percent, the new menu of mini-desserts has added 3 cents to the check average.
The adult-skewed approach might work for Houlihan's, but Wally Butkus, principal at Restaurant Research LLC in Redding, Conn., disagrees that it's a point of differentiation for the chain. "I don't think what they're doing to appeal to adult customers is different than what other casual chains are doing," Butkus says, citing adult-oriented menu promotions by T.G.I. Friday's, Ruby Tuesday and Chili's.
However, Butkus praises Houlihan's Nooner menu. Named after a rather racy adult pastime and designed to drive lunch sales, it offers a limited number of salads, sandwiches and entrees with the guarantee that food will be served in 15 minutes from the time the server takes the order to the time the food is delivered to the table. "We wanted to address the misperception that you can't get in and out [of a casual restaurant] quickly at lunch," Gulvik says. Advertised at the store and even on its own Web site (www.haveanooner.com), the Nooner Menu has boosted lunch sales 8.2 percent since Houlihan's rolled it out two years ago.
Testing, Testing
The transformation of the main menu required a 16-month R&D process and multiple test phases, Admire says. The company first assembled a menu team, which included CEO Bob Hartnett, Senior Vice President of Operations Dan Clay, Vice President of Purchasing Murray Meikenhous and Culinary Manager Michael Pallante, to brainstorm ideas. Admire says the committee comprised different tastes and opinions. "We didn't need everyone agreeing," he says.
Ideas the committee deemed worthy went through the R&D process and ultimately ended up in the test kitchen. Houlihan's franchise advisory board and its team of area directors evaluated each new item. "We did 20 separate food reviews," Admire says.
After a refining process, the menu team assembled the final menu, which was tested in a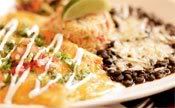 Leewood, Kan., Houlihan's. After expanding to another market, the menu returned to headquarters for one last refinement and rolled out in four stages: appetizers first, then sandwiches and salads, then entrees, and, finally, desserts.
The four-stage approach enabled the restaurants' staffs to gain sure footing with a small part of the menu at a time; releasing an entirely new menu all at once might have proved operationally disastrous, Admire says. Houlihan's introduced a new physical menu, with new graphics and groupings (burgers, for example, are listed as a single item, with options underneath), at the very end of the process.
While some dishes sailed through testing, others took more time. Fish Tacos, for instance, "went round and round," Admire says. Decisions abounded: Grilled or fried fish? What kind of fish, and what sort of condiment? Napa cabbage or shredded lettuce? Lime, chipotle or no dressing at all? And what about the side dish?
The final product is a flour tortilla filled with breaded tilapia, topped with napa cabbage, dressed with honey-cumin sauce, and served with pico de gallo, sour cream, chips and salsa for $7.99. Despite the R&D angst, Admire is happy with the results: "I ate every fish taco in the land, and we have the best one in the world."
A few items that pleased testers proved to be operationally unwieldy. A tuna niçoise salad, for instance, required five single-use products and five separate prep recipes including lemon-yogurt dressing, house-made basil oil and braised balsamic red onions. "It had too many moving parts," Admire says of the salad.
Flavor First
Admire is currently fine-tuning the menu including a wholesale evaluation of ingredients. "We're taking a look at upgrading our chicken and bacon, looking at our bread program, adding new soups of the day and vegetable selections, plus a little dessert development," he says.
With ingredient upgrading and future menu items, Houlihan's will worry first about making customers happy, then deal with operational issues.
"We're not in the microwave business," says Gulvik, noting that 95 percent of the menu is made from scratch. "Flavor comes first, then we figure out how to make it operationally feasible."