Dinner at home tonight is the way cooking was meant to be during the summer months. It's so satisfying going out to the garden at 5:00 pm and centering dinner around what is ripe. I know it's
obsessive
but it's inevitable that R&D spills over into the home.
Goat cheese stuffed zucchini blossoms , cherry vinaigrette, basil oil
This was such a nice vinaigrette with fresh cherries, white wine vinegar, extra virgin olive oil, a small amount of whole grain
mustard
, sea salt & cracked black pepper. We picked the
zucchini
blossoms and filled them with softened goat cheese. For cooking - dip into frothed egg whites, dust with small amount of seasoned flour, pan fry in olive oil.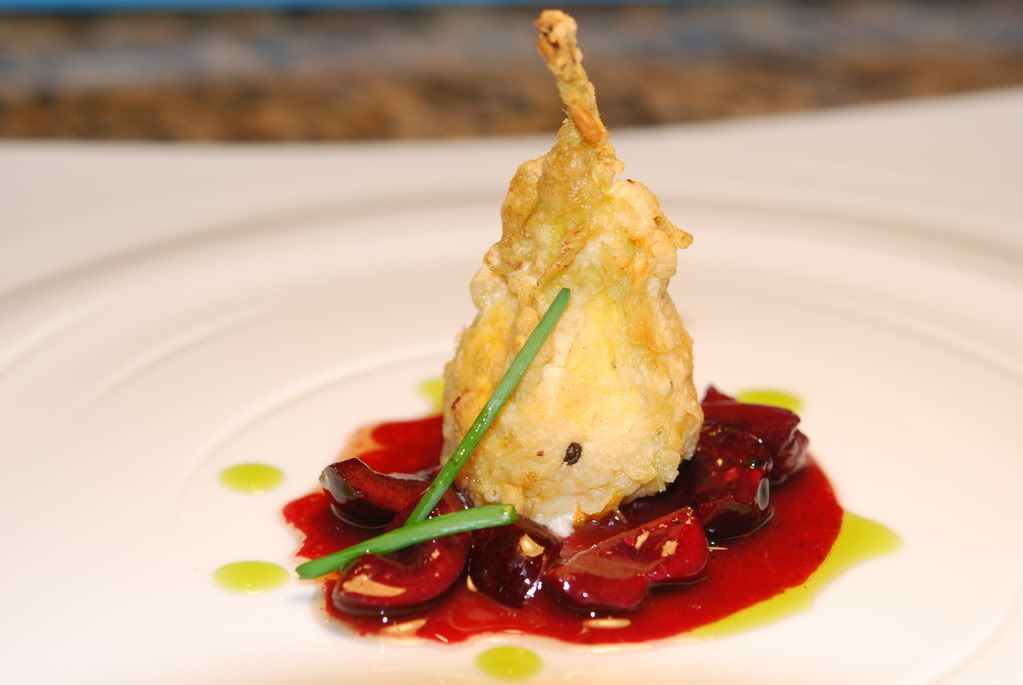 Sourdough pan fried in olive oil, fresh mozzarella, golden tomato & jalapeno gazpacho, balsamic glaze
The gazpacho was made with really sweet golden tomatoes, garlic and a small amount of fresh jalapenos. It was perfect with the crisp bread and mozzarella.
Seared sea scallops, orange salad with lemon vinaigrette and chives
We were pleased with the simplicity of this dish. The orange salad was one of the best
accompaniments
I've had with scallops. We decided not to use vinegar in the vinaigrette because the acid in the lemon juice was enough.
Seared sea scallops, lemon vinaigrette, cucumber ribbons, oranges
This was a different scallop preparation with wilted cucumber ribbons and the same lemon vinaigrette.