Le Bernardin is, well, incredible. As with any great restaurant there are many many talented people focusing on details and quality every minute of every day. I'll comment on two of these individuals.
Chef Eric Ripert - Ripert's statement on the menu says it all, "
Fish is the star of the plate not the chef
", that pretty much sums up the identity of the restaurant, serving pristine seafood in a style that allows the seafood to shine. Ripert's menu layout is unique, there are three categories on the menu with about a dozen selections in each category, "Almost Raw", "Barely Touched" and "Lightly Cooked". It's a great philosophy that acknowledges that all fish are not created equal and don't deserve a universal cooking technique. It also allow for a dining experience that escalates in texture, temperature and flavor.
Executive Pastry Chef Michael Laiskonis - Laiskonis displays an incredible array of ingredients, cooking techniques, flavor combinations and presentation styles. He's a well document chef who has two great blogs,
Michael Laiskonis Notes From the Kitchen
, and
Workbook
. I follow both of his blogs on a regular basis, especially Workbook because it contains formulas and some insight into his ideation process. Michael arranged for us to take a kitchen tour before our arrival, which was more than I could've asked for, but it didn't end there, when we ordered dessert he sent out almost the entire menu. Thanks Michael, It was sensory bliss. The dessert menu has a unique layout also, the desserts are simply labeled with their main ingredient, such as Carrot, Yuzu, Chestnut, Walnut, Chocolate-Sweet Potato, Etc.
Awards and accolades
The restaurant was voted 20th best in the world in the
Restaurant Magazine
Top 50 for 2008.
Le Bernardin is one of only four restaurants in New York awarded three Michelin stars.
It is also the restaurant which has held four stars from the New York Times for the longest period of time. Le Bernardin gained the superior ranking less than three months after opening in early 1986.
James Beard Foundation Award: Outstanding Restaurant 1998, Outstanding Chef -Eric Ripert- 2003, Outstanding Pastry Chef -Michael Laiskonis- 2007
Gayot Top 40 Restaurants in the US: 2008, 2007, 2006, 2005, 2004. In 2008 it was given a rating of 18/20, one of the highest scores awarded.
Exterior Shot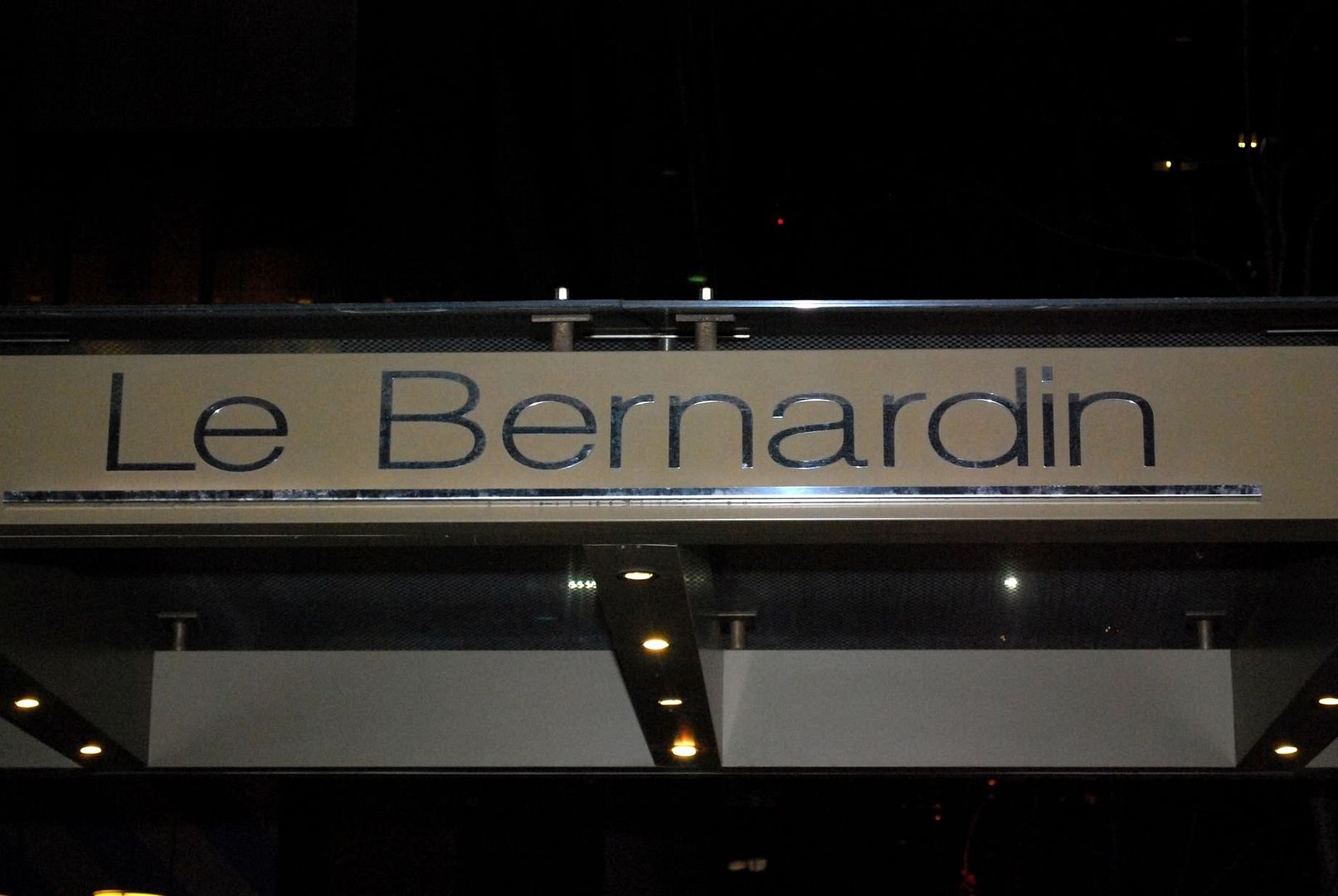 Amuse-Bouche
Maine Shrimp with Celery Foam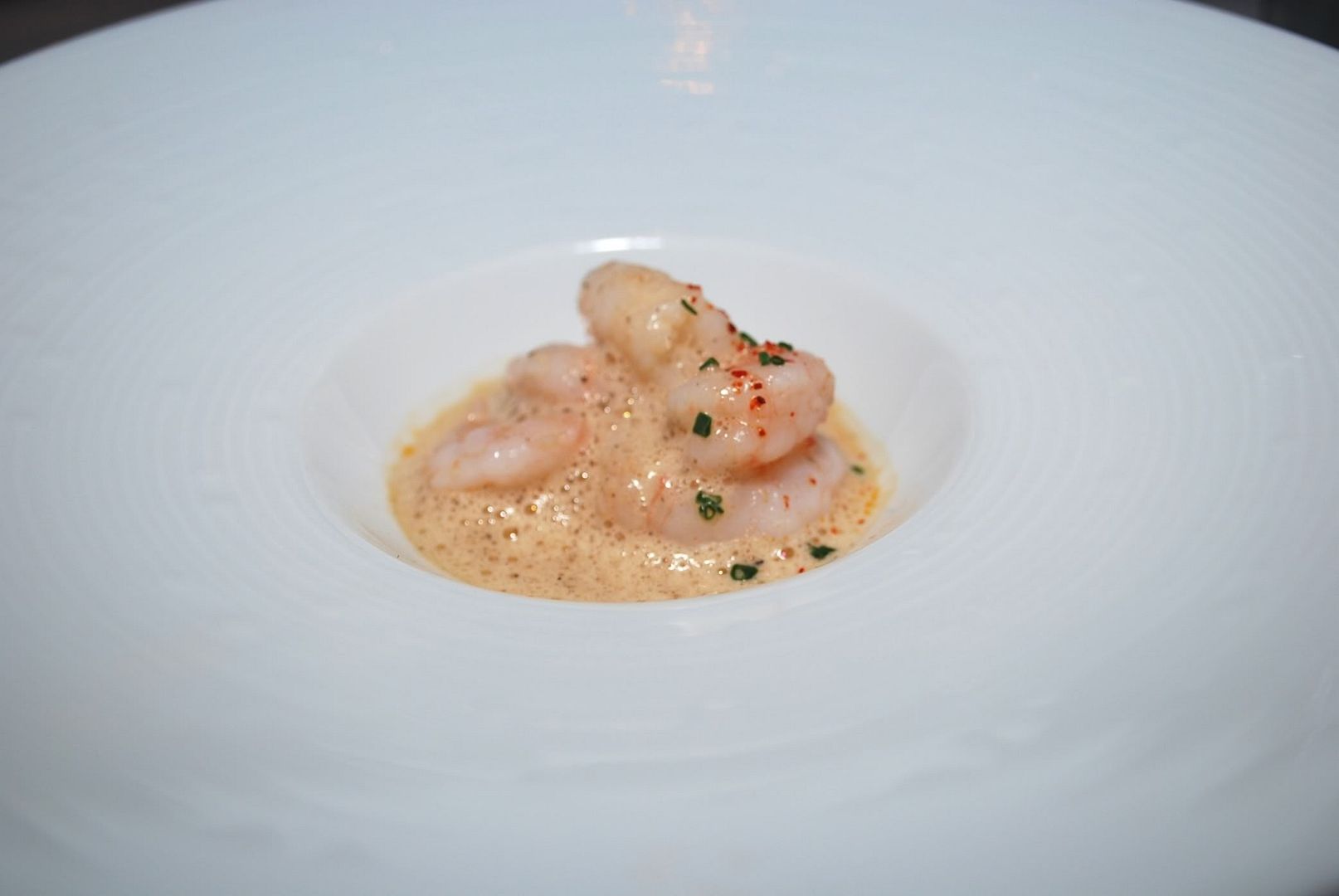 Kampachi Tartare
Cucumber, Pineapple-Citrus Vinaigrette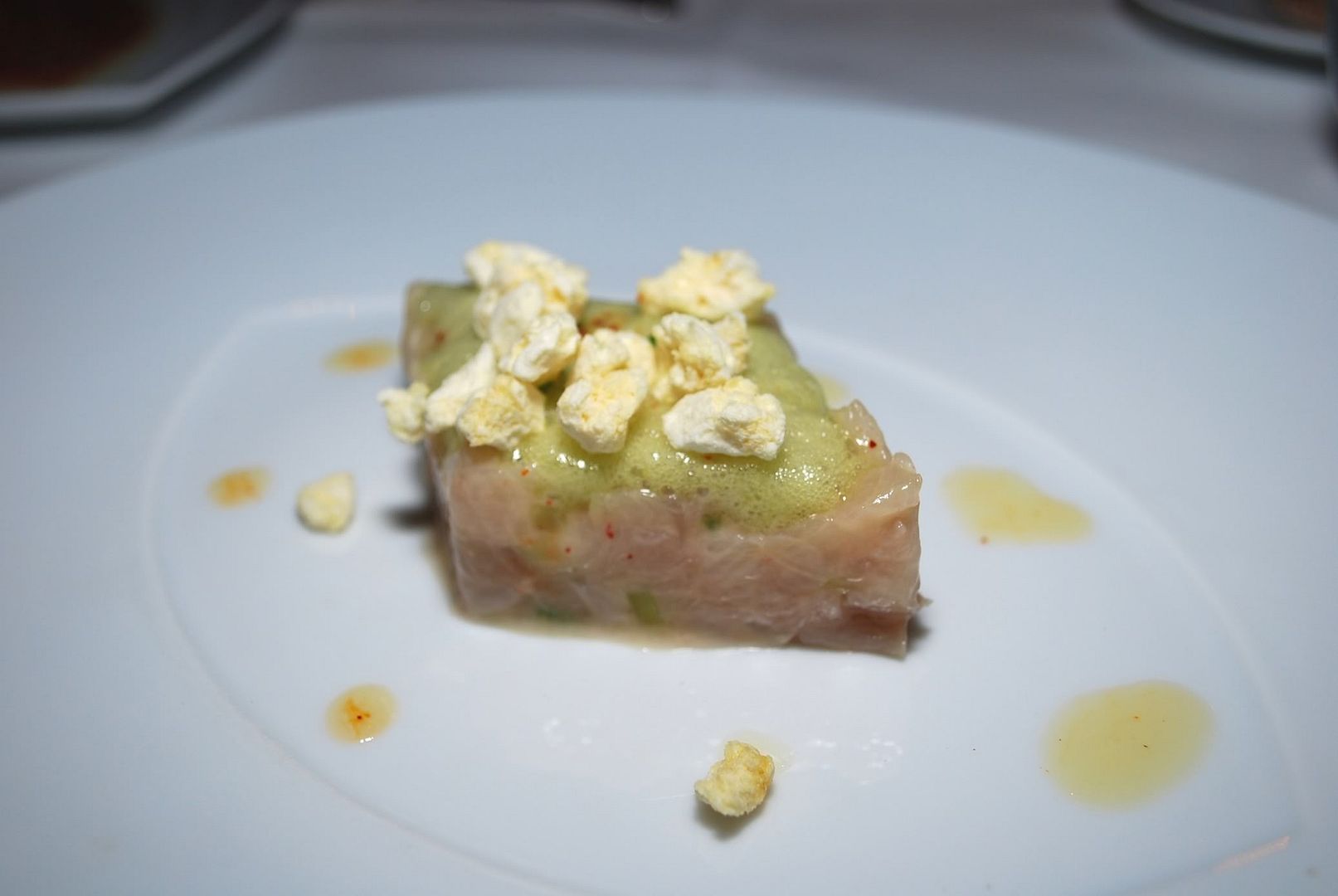 Organic Scottish and Smoked Salmon
Apple, Celery and Baby Watercress, Jalapeno Emulsion
Layers of Thinly Pounded Yellowfin Tuna
Foie Gras and Toasted Baguette, Shaved Chives and Extra Virgin Olive Oil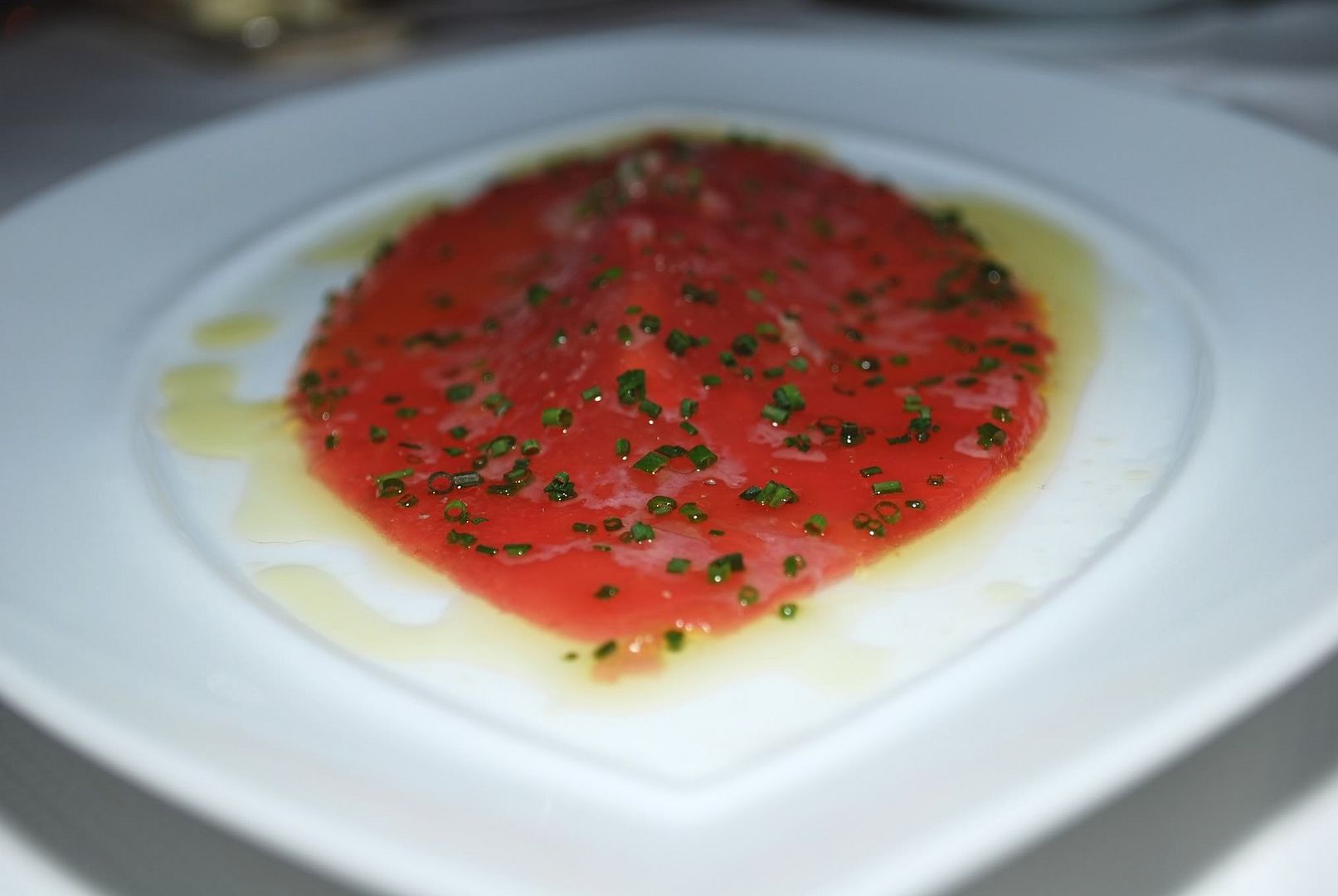 Escolar
White Tuna Poached in Extra Virgin Olive Oil, Sea Beans and Potato Crisps, Light Red Wine Bearnaise
Crab
Stuffed Zucchini Flowers with Peekytoe Crab, Black Truffle Sauce
Mackerel
Seared Spanish Mackerel, Parmesan Crisp and Sun-Dried Tomato, Black Olive Oil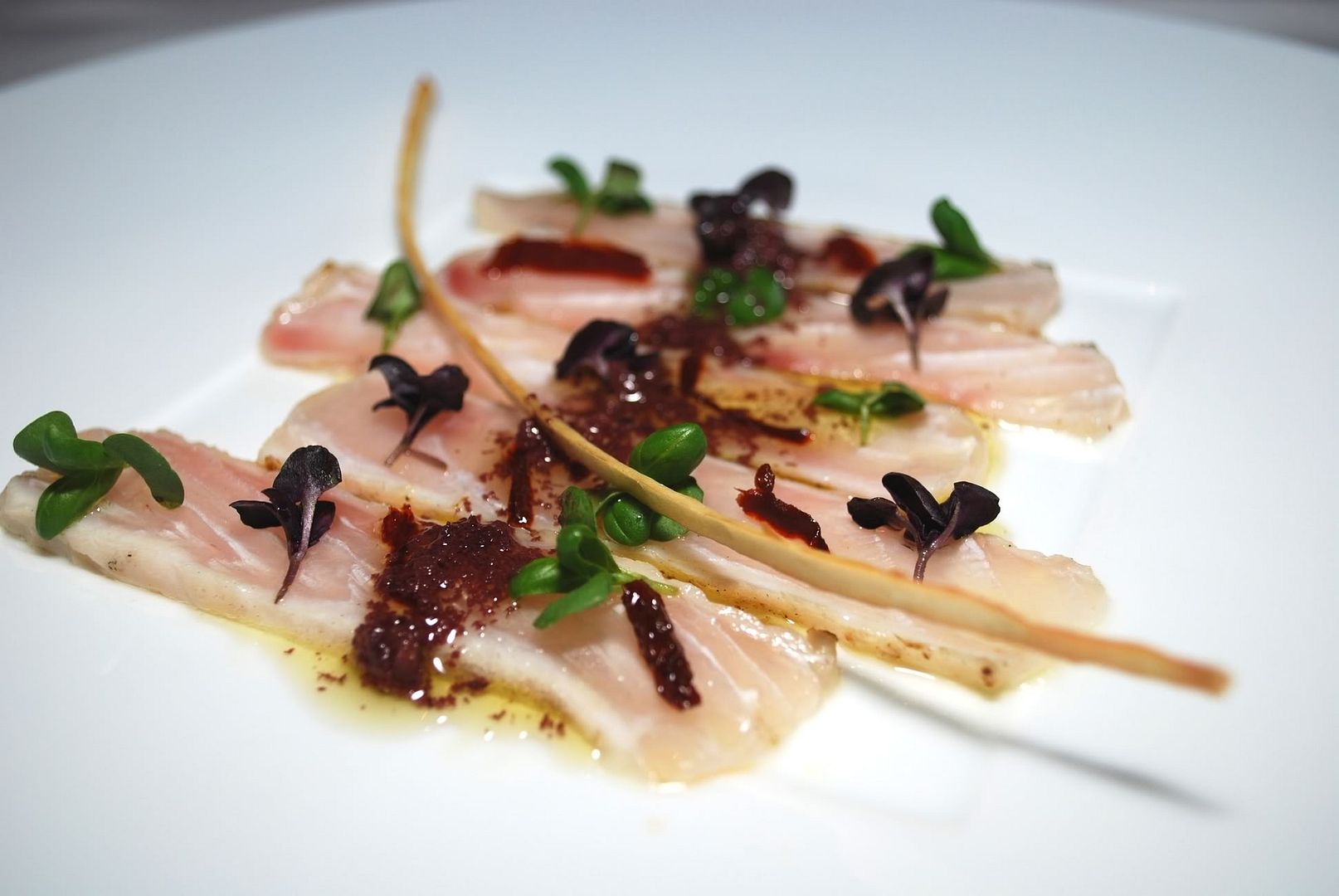 Red Snapper
Bread Crusted Red Snapper, Zucchini-Mint and Coriander Compote in a rich Citrus Broth
Surf And Turf
Escolar and Seared Kobe Beef, Sea Bean Salad and Eggplant Fries, Mr. Kaufman's Pesto and Anchovy Sauce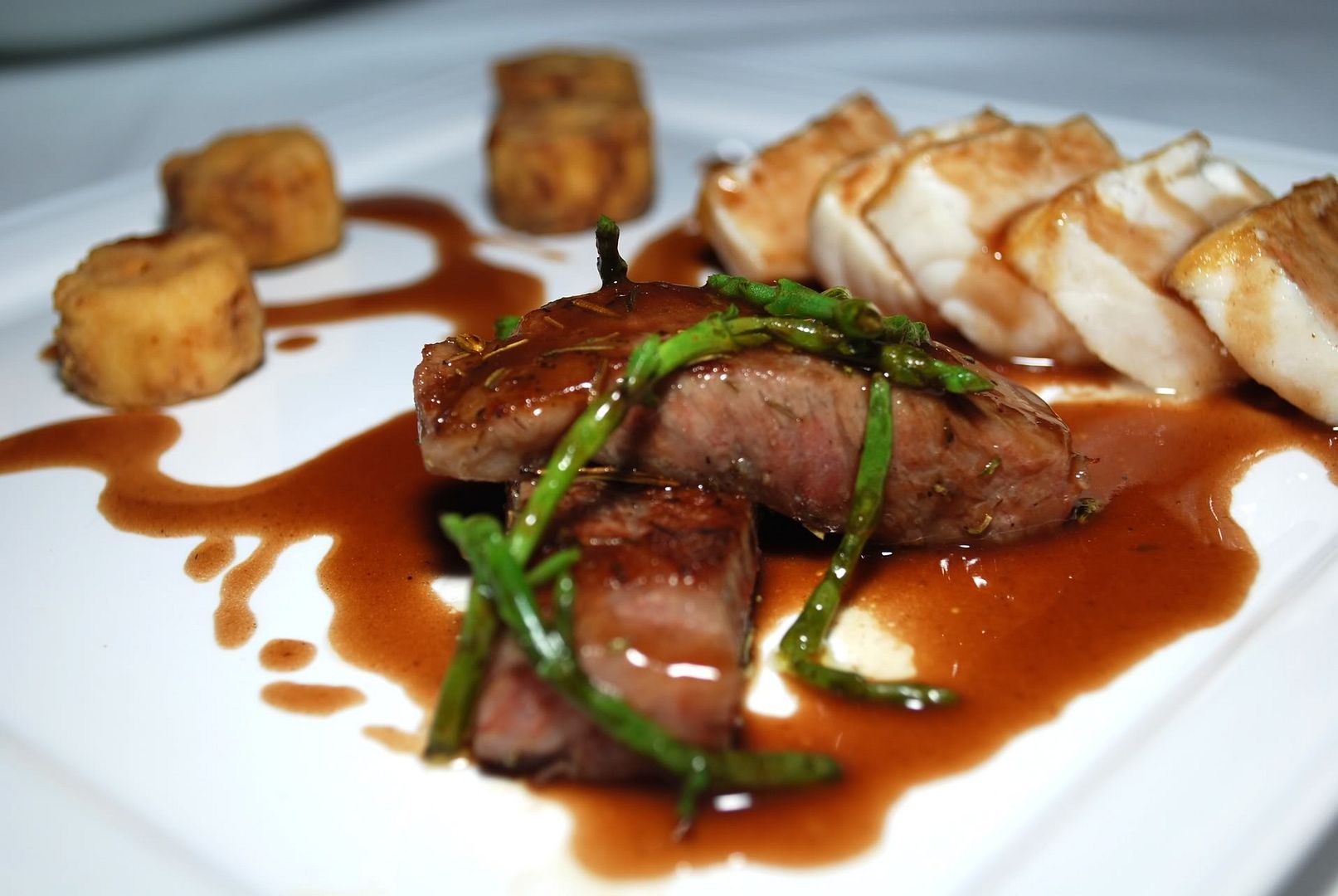 Codfish
Baked Codfish, Green Mango Salad, Red Lentil Stew, Yogurt Sauce
"The Egg"
At Le Bernardin, "The Egg" often appears unexpectedly as a special treat for guests, as there has never been any mention of it on any printed dessert menu.
Michael Laiskonis, executive pastry chef of Le Bernardin prepares "The Egg" — a milk chocolate pot de crème topped with caramel foam, maple syrup and a pinch of maldon sea salt, served in a eggshell.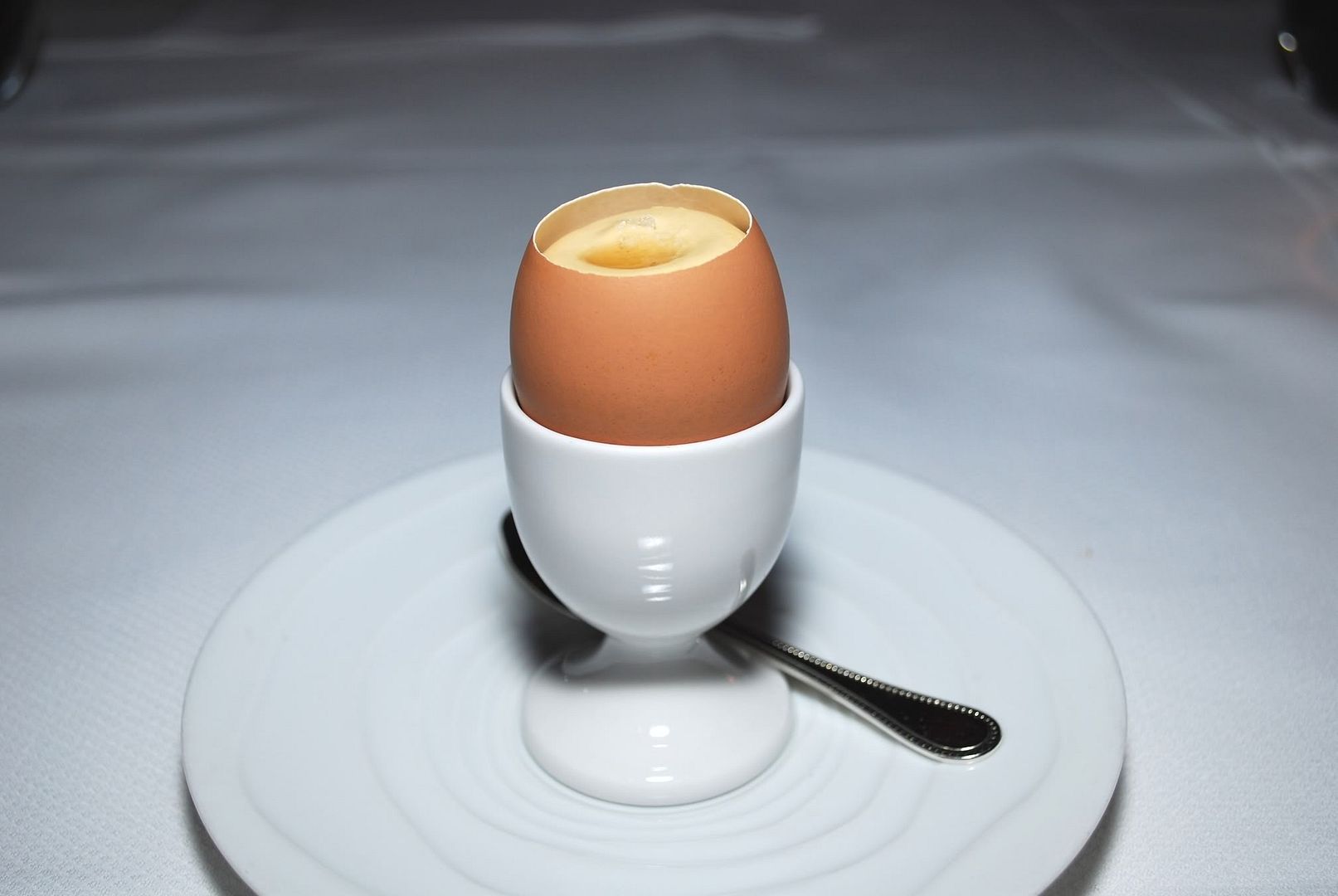 Chocolate-Sweet Potato
Dark Amedei Chocolate Ganache, Sweet Potato Pearls and Sorbet, Pistachio, Palm Sugar, Vanilla Salt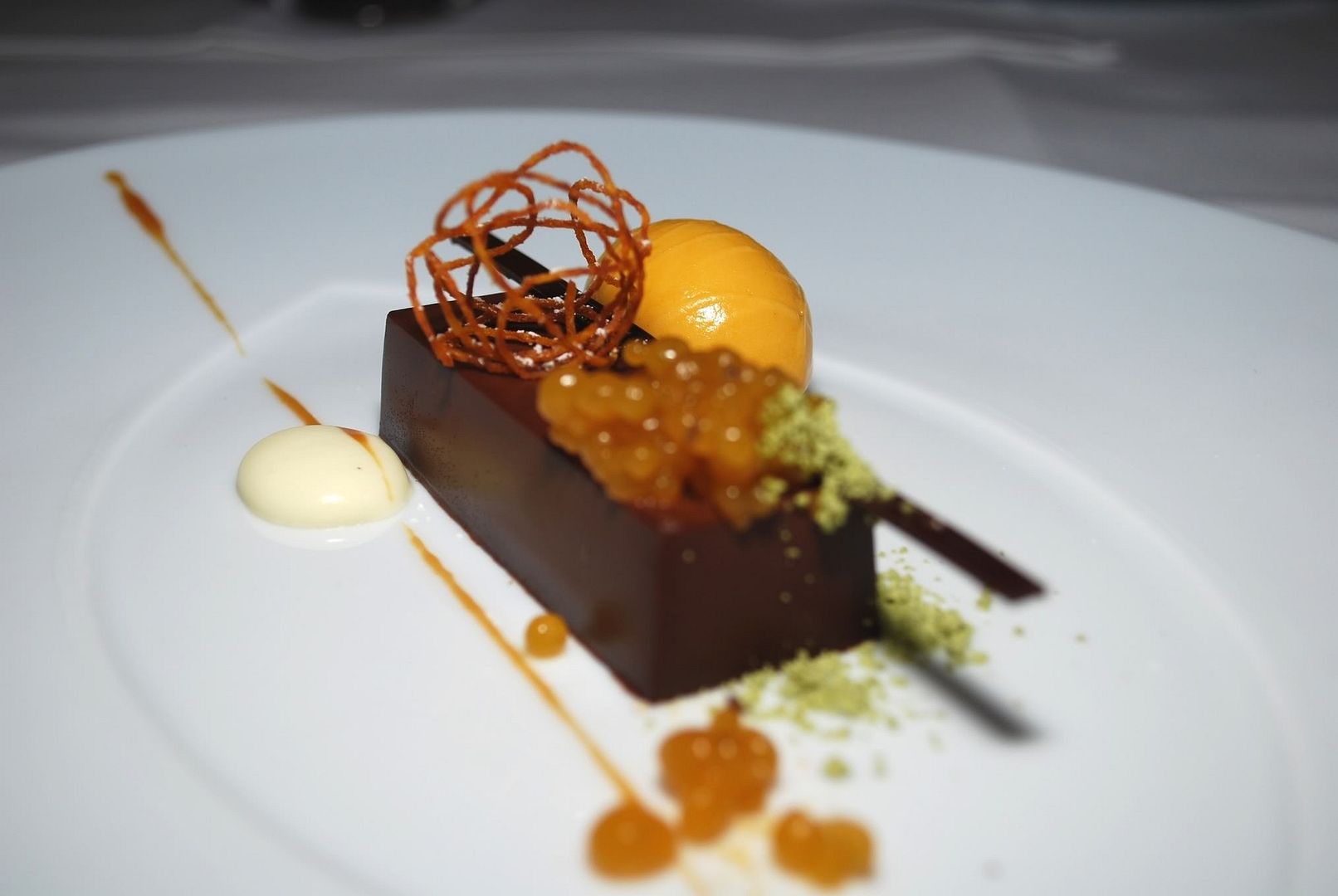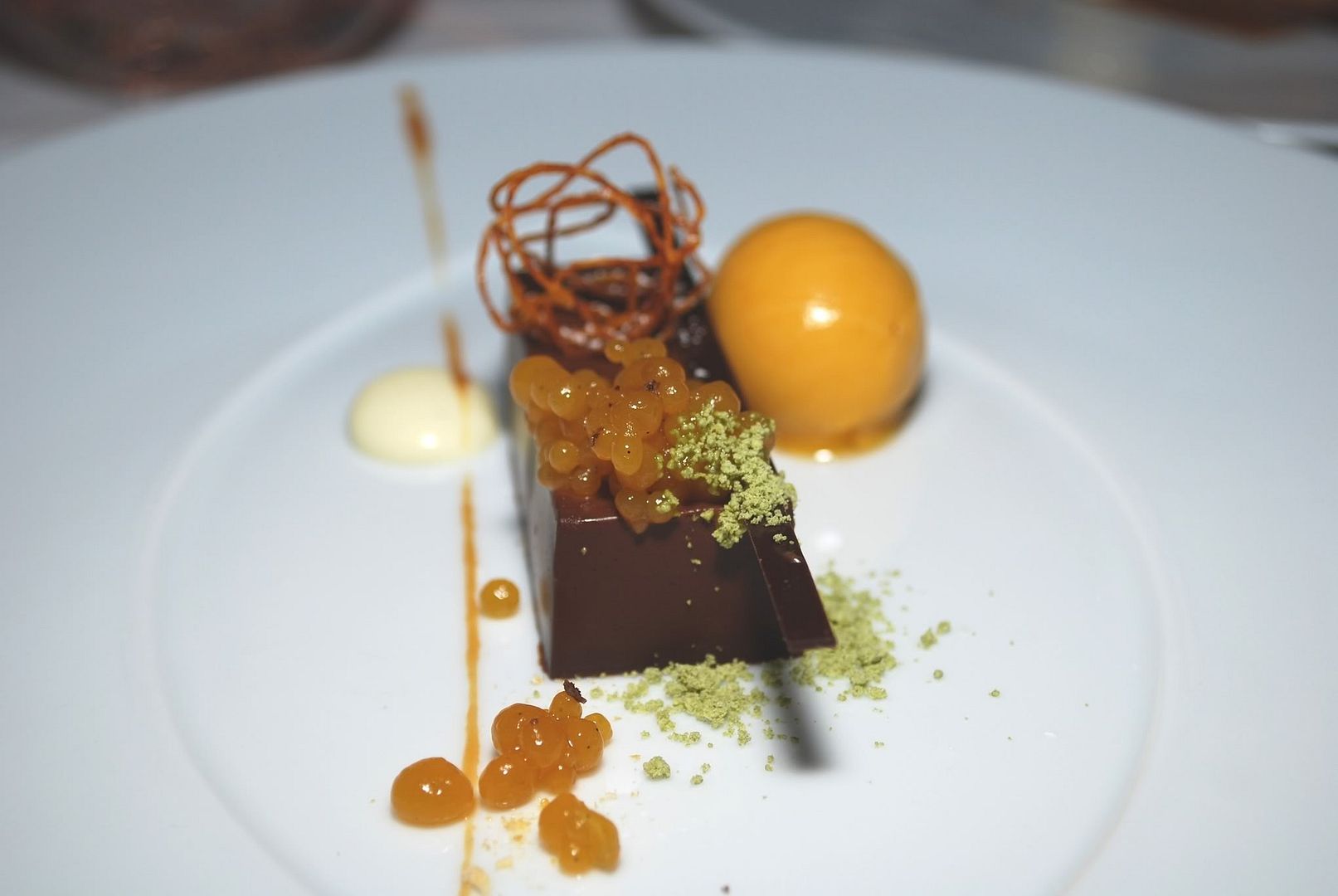 Sorbet
Pineapple Buttermilk, Coconut, Mandarin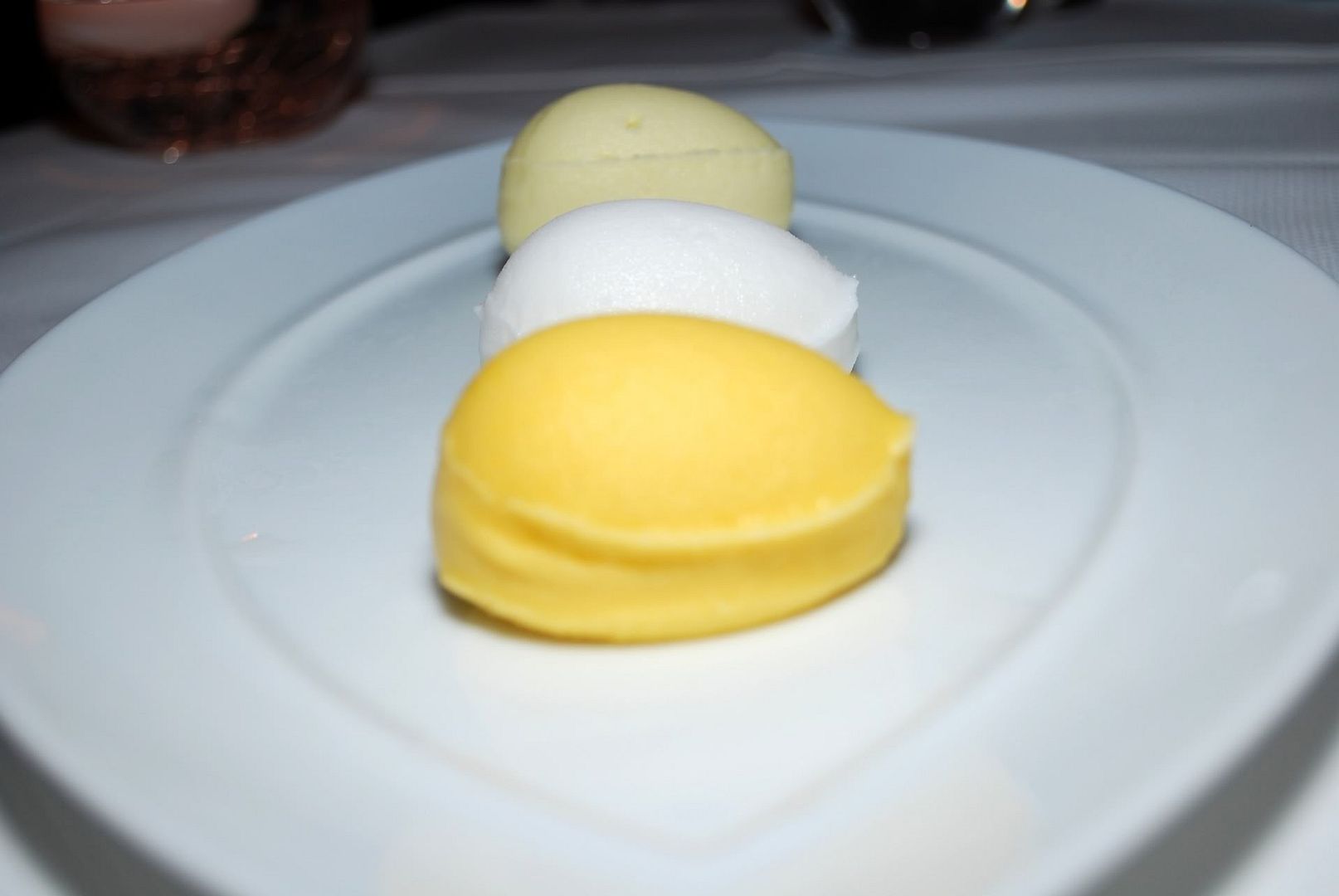 Carrot
Rum Scented Carrot Cake, Golden Raisins, Sicilian Pistachio, Condensed Milk Ice Cream
Chestnut
Frozen Chestnut Parfait, Biscuit & Wafer, Mandarin Coulis, Coconut Sorbet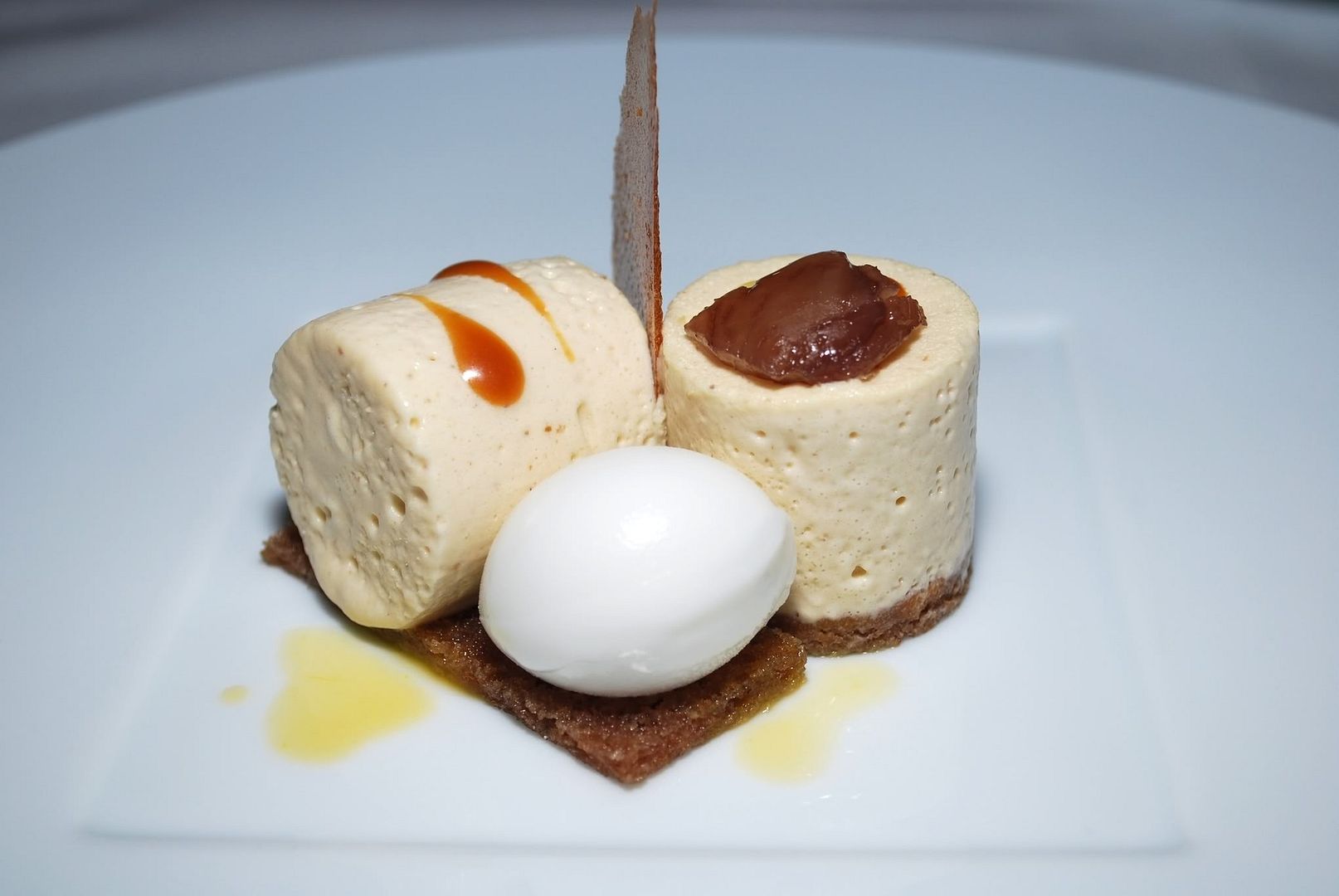 Panna Cotta
Greek Yogurt Panna Cotta, Pomegranate Pearls and Sorbet, Lemon Cream, Orange Peel, Mint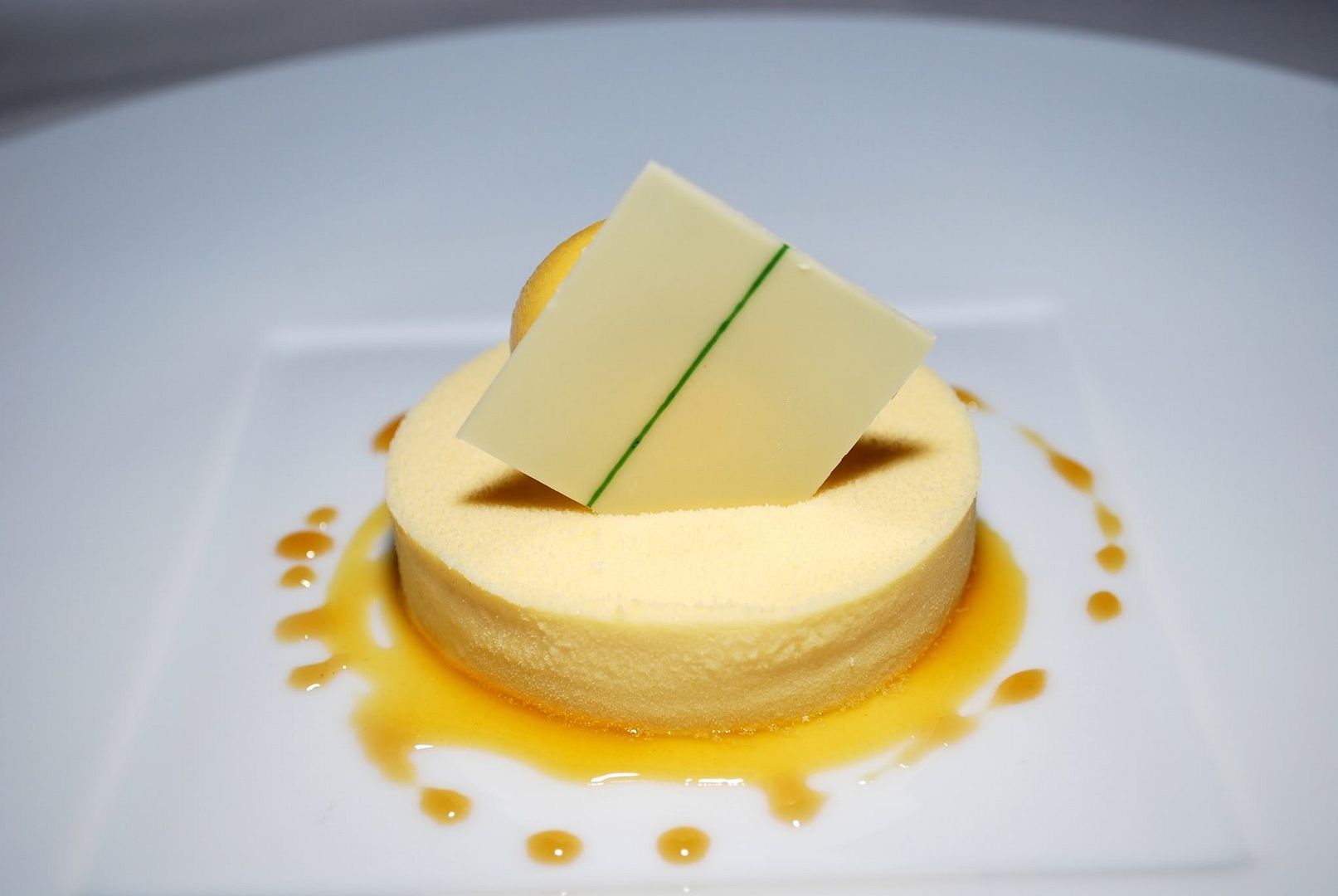 Hazelnut
Gianduja Cream, Oregon Hazelnuts, Honey, Banana, Brown Butter Ice Cream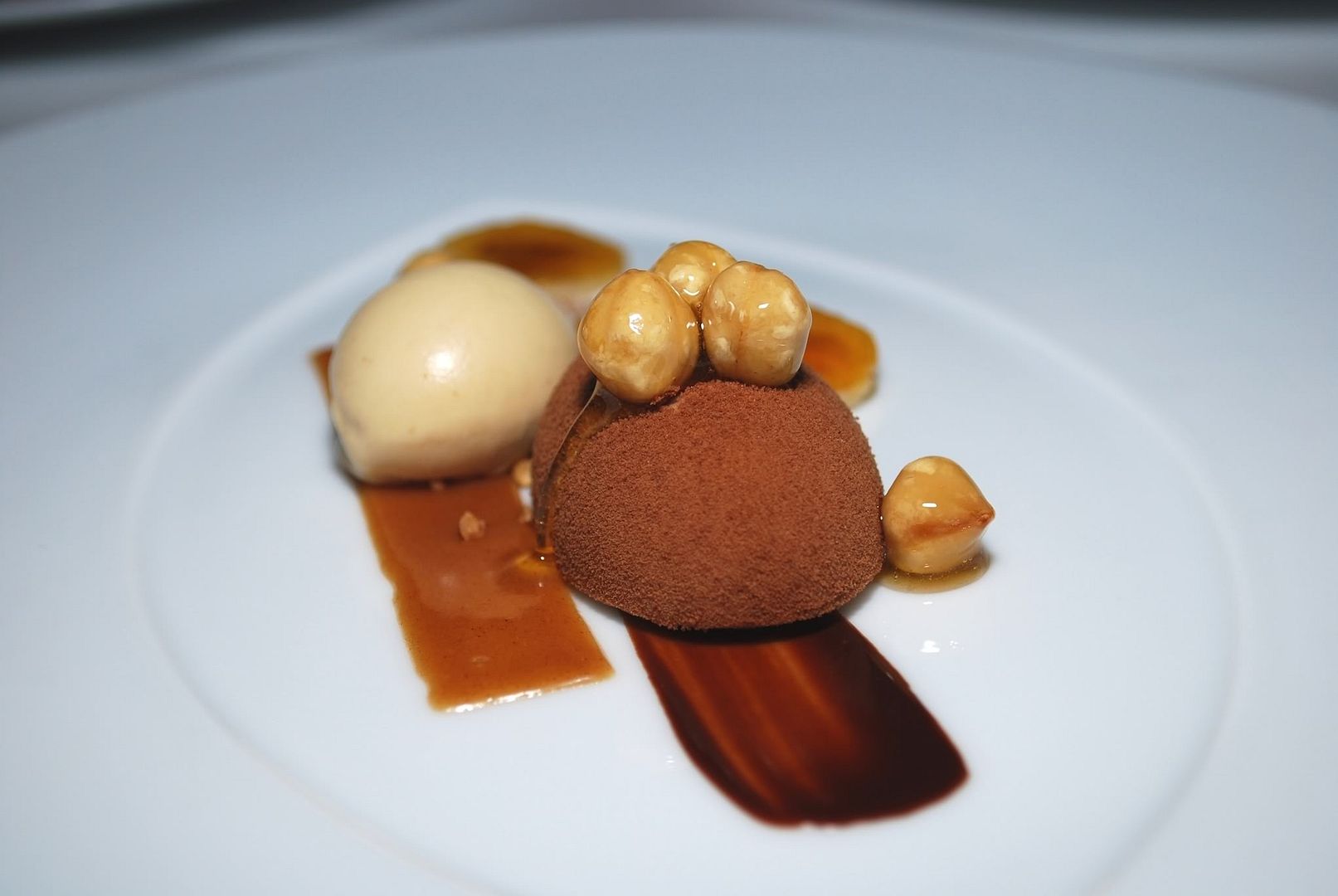 Petit Fours
Cooking line at Le Bernardin
- If you watch Top Chef, this is the kitchen that was used on one of the recent episodes.
Le Bernardin Pastry Line
- Executive Pastry Chef, Michael Laiskonis is in the foreground