I'm going to New York City this week to do some R&D and I'm eating at many great restaurants but I thought I'd try to make reservations at the toughest place to get one. I knew it would be highly improbable but no self respecting chef would go to NYC and at least not make the attempt to get into Momofuko Ko.
In March 2008, Chang opened Momofuku Ko, a 12 seat restaurant that takes reservations seven days in advance, online only, on a first-come-first-served basis, without regard to social status or income. The highly limited seating, along with Chang's popularity in New York, has caused a furor, generating frustration for both influential and ordinary people who have failed to secure a reservation
Ko does not play favorites to VIP's or the media. It can take weeks or months to secure a reservation. The NY Times and NY magazine have chronicled their adventure with the reservations system. They even used several employees logged on at the same time every morning at 10:00 am but it still took forever. This of course is not an option for those of us traveling from another city.
Here's some screen shots of my attempt at using the system that requires the speed of a world class video gamer.
There is an opening statement that says,
"We want access to our restaurants to be fair and open to all therefore in an effort to thwart reservation scalpers and automated internet robots or spiders we ask you to submit your valid credit card info below. We will not charge your card or keep this Info"
First you need to set up an account with an email address, password and credit card number. Now you're set to make the attempt.
Next you log on but it won't let you proceed until exactly 10:00 am, so you just keep hitting the "Press Here" button to reload the "Current System Time"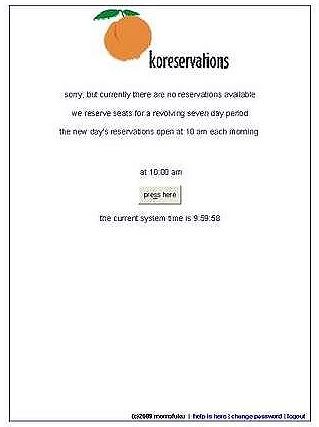 Finally it lets you through and you quickly enter lunch or dinner and the number of people. You can only choose 1, 2 or 4 people.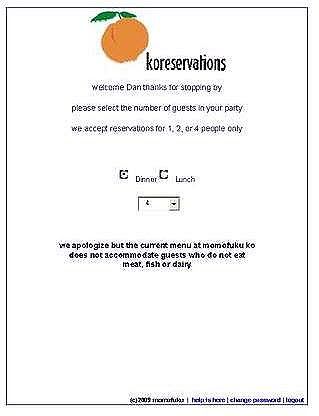 Next it sends you to the screen with availability….
And WOW there's two available slots so I click on 6:50 pm. This is it; somehow I've secured the mother of all reservations!!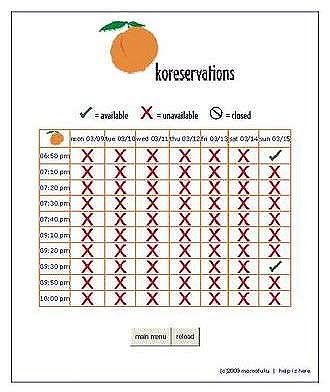 Think again! I get this screen,
"Sorry, someone just grabbed this spot"
so I hit the "Try Again" button and it takes me to the next screen.
And of course there's nothing available. You could go crazy doing this, high hopes followed by the extreme lows of "Sorry, someone just grabbed this spot"