It's Alive!
Three hour rise on a 16 lb. batch of sourdough. That plastic bubble is ready to blow! This 12 year old starter is really healthy.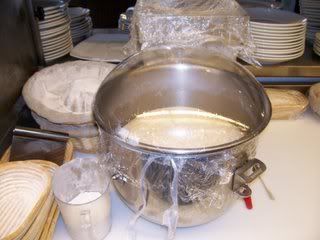 Incredible
The incredible bleu cheese & roasted garlic sourdough. Two pound loaf proofed in a willow basket for 24 hours, slashed with a lame, brushed with garlic-rosemary olive oil, topped with bleu cheese and roasted garlic cloves.
Oven Ready
After 24 hours the two pound loaf is ready for the oven.
Fermentation
Look at the blistering on this loaf. A product of slow, cold aging of the dough.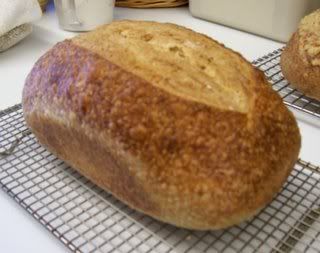 The Good Stuff
One pound loaves of asiago cheese sourdough.
"Acorns were good till bread was found."Francis Bacon, English philosopher, statesman (1561-1626)
Variety
Multiple loaves from today's baking. Back center loaf was baked with whole rosemary sprigs and roasted garlic on top.
"You can travel fifty thousand miles in America without once tasting a piece of good bread."Henry Miller, American writer (1891-1980)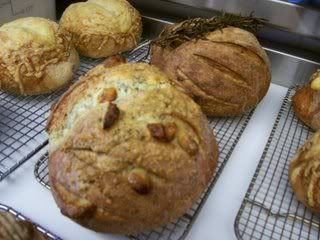 Crustacious
The goodness of golden crust. It really doesn't get much better than this.
"How can a nation be great if its bread tastes like Kleenex?"Julia Child
Gargantuan Boule
This is a crusty four pound country sourdough boule with stone-ground bran. This loaf has an incredibly sweet crust and superb crumb. This loaf ended up in the hands of a large family in need of assistance, they took the loaf home and toasted slices of it in the broiler of the oven, slathered it with butter & jelly and that was dinner….they ate the whole 4 pound loaf! We don't sell bread we give it all away and stories like this make it all worthwhile.
"Good bread is the most fundamentally satisfying of all foods; and good bread with fresh butter, the greatest of feasts."James Beard (1903-1985)
Bubbling Starter
Sweet & sour super fragrant 12 year old sourdough mother.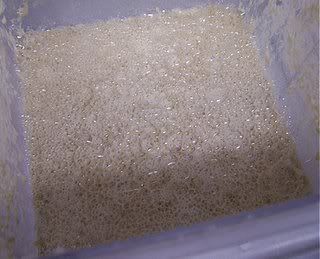 Multi Loaf Proofing
After a cold night in the cooler the dough needs a little floor time before going into the oven.
Aromatic Mini Blue
These country sourdough boules with bleu cheese and garlic are the bomb. I had these in the car today and got stuck in a traffic jam; the aroma was so intense that I had to pull over and crack a loaf.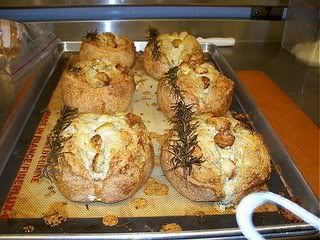 Caramelized Crust
The crust on these two pound boules are sweet and crunchy, the end result of starch converting to sugar.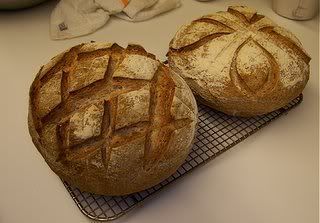 Un-slashed Loaves
Just after turning the loaves out of the willow baskets.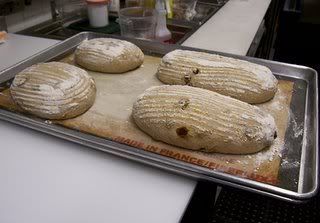 Slashing The Loaves
Just prior to going in the oven.
Baked Cinnamon Raisin Sourdough
Ready to eat!
Focaccia – Loaf Of 100 Cloves
Great sandwich bread with bleu cheese, roasted garlic, rosemary oil and fresh rosemary.
Raisin Boule
Two pound loaves of sourdough with cinnamon, organic red & green raisins, honey and unprocessed bran.
A Really Good Baking Day
Today the bread preformed really well. Yesterday I made the dough and proofed it for 1 hour longer than normal, rounded it and gave it a little floor time to produce some leavening before putting it in the cooler for the night. This is a method I used years ago which allows me to bring the dough out of the cooler in the morning and go directly into the oven without any additional proofing. As you can see the bread has exceptional rise.
The Perfect Sandwich Bread
Tomato sauce with asiago and roasted garlic. Bleu cheese with rosemary. These two breads really make fantastic sandwiches.